I love fall!!
It is a beautiful 60 some degrees F outside and windy and gor-GEOUS! :D The leaves are changing colors and the weather is getting cooler.... it's finally fall!! I never thought the hot weather would end D: I hope it has... though I know global warming will give us a random 80 degree weather day in the middle of October. :[ Cooler weather means layers and black!! I like my fall wardrobe hohoho

Today I'm going to
Larriland Farms
with a classmate and her friends. Usually I'm no good with meeting new people, but I'm getting braver and braver with such events. Hopefully everything will go well. :] I'm excited to go pick apples and get a hayride and drink apple cider and pick pumpkins and do all the fun fall stuff!

I tried to dress gal...? but I have to wear flat shoes I don't care to get dirty because it IS a farm after all. I'm wearing my new brown circle lenses and DollyWink lashes I haven't gotten to test drive either... Let me say that I LOVE THE LASHES. I seriously need to go buy more STAT.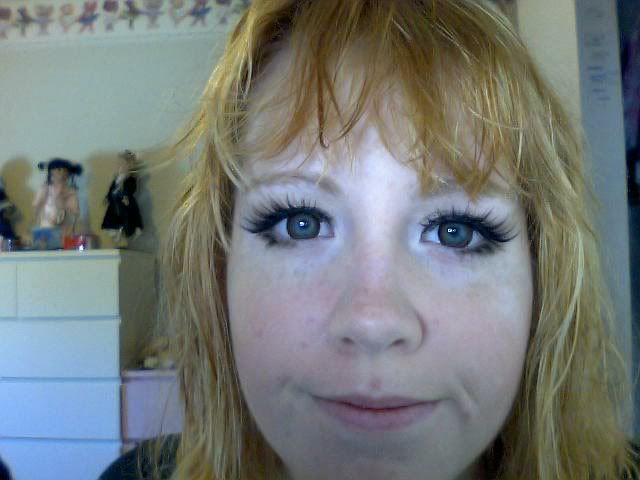 Sorry my hair is obviously not done yet, guhh. I have an hour yet so I'm giving it more time to dry.... I wanted to curl my hair but it's too windy outside!!! >[ therefore, I don't think it's worth it considering I'll be outside all day. I'm happy to have circle lenses again and I DEARLY hope these won't fuck up my eyes like my last ones :[ Honestly, circle lenses make all the difference when going for gal makeup, at least, that's what I think.

I just bought some stuff xD (payday = GOOD money lol)

http://www.urbanog.com/Deer-In-The-Head-Lights-Shorts_131_9127.html
nordic print???

http://www.urbanog.com/Simply-Marvelous-Dress_129_9109.html
(in b/w) mode??

http://www.urbanog.com/Polka-Dot-Lace-Twist-Headband_143_7869.html
and I feel left out because I still don't have an usamimi!

I'm having wardrobe problems lately.... my clothes don't seem gal enough and I'm runnng out of new coordination ideas... I feel I suck at this gal thing ugh. maybe sometime I'll start buying stuff online overseas instead of always hunting through american stores of stuff.
Labels: buys