Korres Eyeliner Pencil Review - negative
Now that I am into gal and makeup, this is a good thing because she'll share! lol. So today, I woke up with this on my dresser....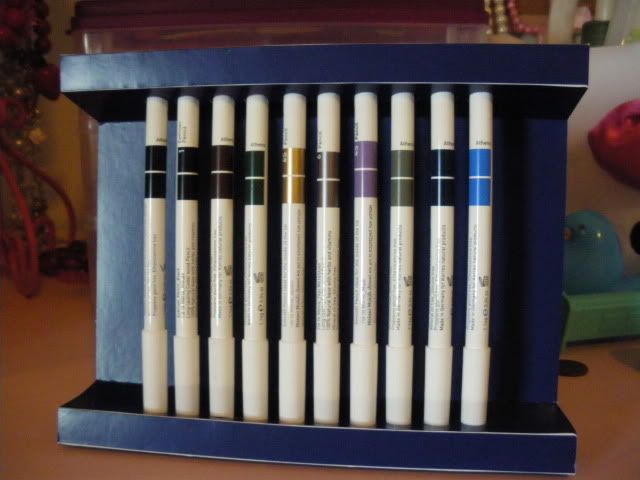 Korres eyeliner pencils! They're a limited edition set,
@Sephora
, though I know my mom got them off HSN/QVC (she has an addiction!) After reading their page at Sephora, I like that they are made without certain chemicals! I'm very into the green/natural/organic movement, and this makes me happy to support the company. :]

First thing, I did was make a swatch of each color on my wrist;
click!

Next, I took the two blacks (one was soft for inner lining and the other "normal" i guess, lol.)
Click!

Conclusion.... the black is VERY dark! Esp the soft black pencil. Usually I find pencils to not be as dark as I want, compared to the blackness achieved by liquid liners, but these suprised me!
Click!


And thankfully, my mom doesn't use black so i got to keep the blacks :] These were the ones I got to keep....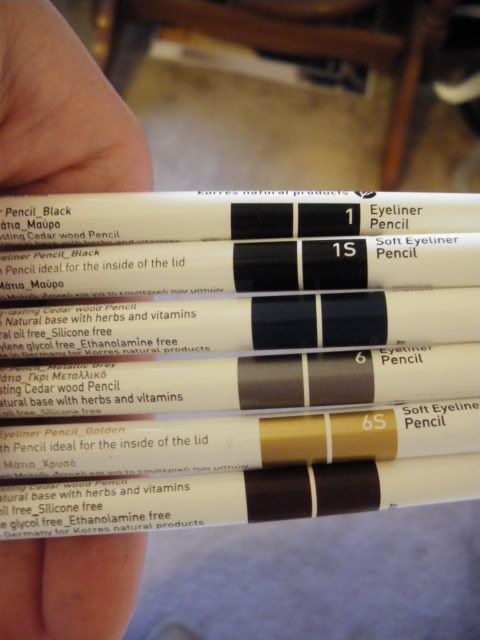 Both blacks, navy, gold (I really liked this one too!), silver, and brown. I approve of these pencils. I have yet to see how long they last (ie, use them with my face all made up). My mom thinks they aren't water proof, but as long as it doesn't pour rain when I wear them I don't see what difference it makes. I wear non waterproof mascara some days and it doesn't wear off...unless there's a day when my contacts make my eyes freak out. ugh. i hate when that happens. anyway, I digress! Once I wear them for a day, I will make an update!
UPDATE: def. NOT waterproof!!! faillll :[ while the inner liner black works well, when I wore the black and the blue eyeliner on my top line it melted/smeared/disappeared. :[ :[ disappointed. all i can say, good thing it wasn't my money >_>
Labels: product review